Ernest "Tre" Hadrick, III came to PFEW in 1998 looking for some direction. Little did he know where it would lead…
Tre is the School Counselor at Central Montco Technical High School in Montgomery County, and he's an adjunct professor at Villanova University in Philly. Impressive, yes, but this story is about how he got here, who helped him, and what he's learned along the way. It's about his Life Lessons…
Life Lesson #1 – "Be a Sacrificial Lamb"
Tre's passion was sports, particularly football. He walked on at Auburn University, and a year later he transferred to North Carolina A&T, playing four years, earning a degree in Business Management. Tre was a fullback, the "sacrificial lamb" of the offense. Fullbacks hardly touch the ball, they never get the glory, but Tre believes it's the best position on the team. They protect, they pave the way, they grind. Their hard work allows others to shine, and the team to succeed. Be humble, don't seek glory or recognition, let your life's work allow others to shine.
Life Lesson #2 – "Always Look for Moments"
Tre says that great things happen when you are exposed to many different people, opportunities, even obstacles. Try to take something of value from your daily interactions. Open yourself to new and different experiences, even if it may be uncomfortable at first. Look for those moments of inspiration from coaches, educators, friends, mentors, even strangers. But don't stop there. When you take something, give something back. Be willing to share your moments with others.
Life Lesson #3 – "Be a Responder, Not a Reactor"
Tre uses social media for this life lesson. We have become a society of reactors. We are so quick to react to a post, and many times, these reactions have consequences. Find the positives of social media – use it to make global connections and open new worlds. Don't live your life based on how many likes or positive comments you get. When you post, be prepared for any reaction and be ok with it. Tre says there is a reason we call them first responders, not first reactors. They get there quick, but they first assess the situation before taking action. Be thoughtful in life. Don't react. Instead, pause, think, feel, be deliberate, then respond. It will serve you well.
Life Lesson #4 – "Leave it Better Than You Found It"
Tre took this lesson from his high school basketball coach at Norristown High School, Dana "Binky" Johnson. Binky always implored his teams to do the simple things that make any situation a little better. Whether it's in relationships, careers, moments of service, work hard with an earnest heart. Have intention behind your action. The action doesn't have to be big, it could be as simple as making your bed or washing the dishes. Do your best, make it better for the person who comes after you.
Life Lesson #5 – "Never Give Up"
Perhaps the most important life lesson. The pandemic hit everyone hard, our young people perhaps the hardest. Many of us gave up. We were living, but we weren't alive. We shouldn't need a crisis like Ukraine to realize that, every day, we are blessed to get up in the morning. Sometimes life will knock you down. That's ok. Get up, brush yourself off, and keep going. If you can't get up, don't be too proud to ask for help. Look for those people who may need a little help getting up and stretch out your hand.
If you haven't figured it out yet, Tre's story is all about connections. He credits PFEW with opening his eyes to the possibilities in life and setting him on his journey. But there's a twist to this story…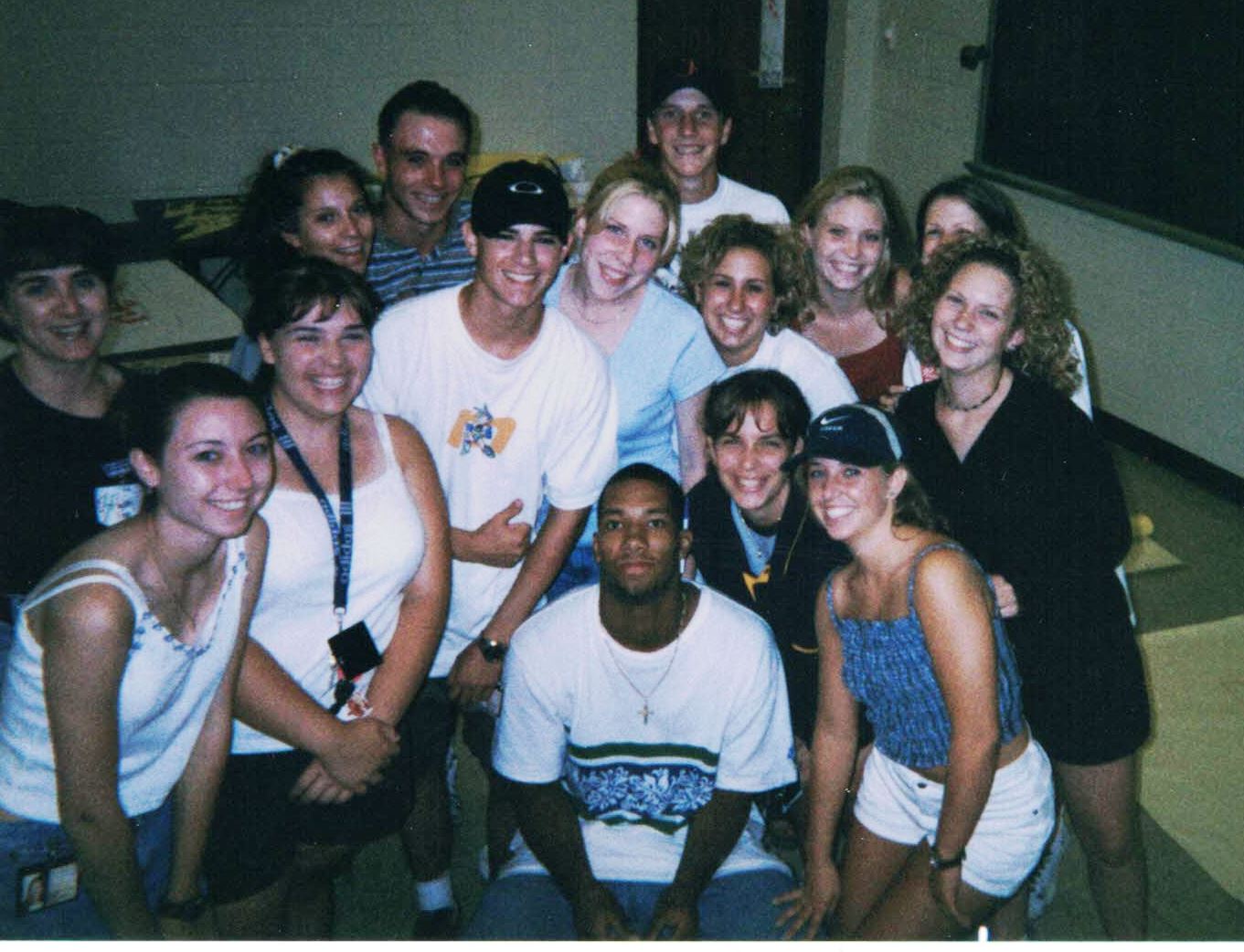 Here's Tre from PFEW 1998 (front row, center). 
Now look right above him at the young lady in the blue shirt. That's Tre's teamate from Company E2, Week 1 of PFEW 1998, Eileen Flanigan. Their company made fax machines…
You're probably thinking, "So?"
Well, Ms. Eileen Flanigan from 1998 is now Mrs. Eileen Lawler, M.Ed., head of the Early Learning Program at, wait for it, Central Montco Technical High School. That's right. Teammates 24 years ago have reunited as teammates once again. Here they are today. 
Ladies and gentlemen, this is the magic of PFEW – life long connections coming full circle to change young lives for the better.